PET Rigid Film lines for the thermoformed packaging and converting sectors. Lines that ensure maximum flexibility through the ability to process all raw materials i.e. PET (R-PET), C-PET, PET-G, PP, PS, PLA
All Bandera PET Rigid Film Lines can be customised to meet our customers requirements
The Bandera PET Rigid Film Lines Range
Alpha Lines

High quality technology developed by Bandera as a result of listening closely to their customers requirements.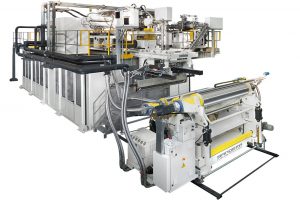 Features:
Sturdy calender roll stack offering the widest thickness range (0,12 mm to 1,60 mm)
Maximised width (up to 2000 mm net) and output range (up to 3000 kg/h)
Specifically designed "in-calender" and "off-calender" film lamination systems
Extrusion coating equipment for multi-layer composite products
Structural E-PET Foam Film production (VelPETR®) for Lighter Packaging
PURe PET Food Grade Lines
The PURe process works in combination with HVTSE™ Highly Vented Twin Screw Extruders and the PET film produced observes the stringent requirements of the EFSA and FDA.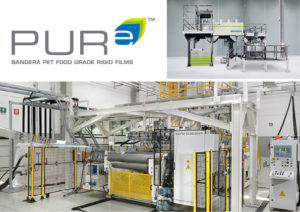 Features:
Innovative & robust lines, providing high performance and reliability
Cost effective
Top quality final product
Plug & Play: turnkey plant including all raw material conveying systems
Insulated extrusion buffer for improved energy efficiency
Operator friendly with inspection and maintenance platforms
Agility Lines
Specifically designed for the FFS (Form-Fill & Seal) market and other superior quality applications, these Agility Lines are 2 floor structures with protective clean-panels and integrated cranes to service all equipment.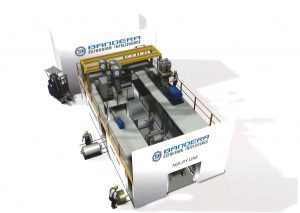 Features:
"Plug & Play" modular construction for fast installation and limited floor space requirement (85 sqm approx.)
Quick start-up procedures using fully auto thread-in operation systems (for both PET Film and lamination). Operator friendly.
Medium output range (up to 600 kg/h) dedicated to short production runs.