The extrusion technology test centre, known as The House of Extrusion, is situated at Bandera headquarters. The centre houses research, development and wet testing facilities on complete production lines.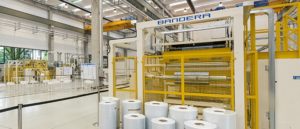 Currently sized at 6,000 m² The House of Extrusion is the result of an initial investment of €4 million and is considered one of the most innovative for packaging and converting in Europe.
Working jointly with customers, industry and academia this extrusion technology test centre continually creates new solutions to anticipate market requirements.
This centre is the ideal place to discover the benefits that a Bandera line can bring to your business and to test the equipment with your own materials.
Both UK Extrusion and Bandera work to ensure that your investment is exactly the solution for your production and will both improve your quality and output.
The extrusion technology test centre is the venue for the highly acclaimed Bandera Open House Events which are held regularly. These enable processors to experience complete lines in working mode and discover the difference a Bandera line could make for them. Details of these Open House Events are posted within the News section of this website.