A 7-layer, complete co-extrusion Blown Film line will be presented by Italian manufacturer Bandera at K2019, October 16 – 23
The Barrier Flex® Seven is a fresh concept in the Bandera 7-layer co-extrusion Blown Film line series and will be in operation in Hall 17 Stand CO7.
Combining barrier and high barrier film, the Barrier Flex® Seven is an optimised co-extrusion line which offers customers short run, fast production changes and high-throughput polyolefin film production with a ground-breaking core.
The line provides the utmost flexibility, without compromising hourly output performance in polyolefin film production, or end-product quality level (unrivalled tolerance ranges) when producing barrier film.
Reducing Energy Consumption
Bandera has applied low energy drivers and reluctance motor systems to provide synchronised operation for the line and this has resulted in lower noise emissions and significantly streamlined maintenance.
The Best Use of Interconnectivity
The Blown Film line control system has been redesigned to improve process management with the aim to reduce errors and optimise time. Communication with industrial equipment and systems for data collection/monitoring has been maximised.
Impressive User Interface
Visitors to the Bandera stand will be able to experience the innovative and user friendly interface (HMI) which can be used remotely by tablet or smartphone. The 3D synoptic display offers an overall one-glance overview of machinery and system status. A simplified diagnostic for driver and motor predictive maintenance, together with an increased process-control parameter accessibility are all features.
Where to Find UK Extrusion at the K Trade Fair
Steve and Chris will be based at the Bandera Stand in Hall 17  Click Here to get their contact details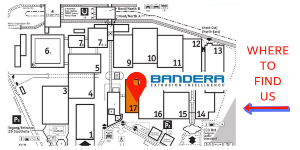 Get a Personalised Tour
UK Extrusion will be available throughout K2019 to provide UK processors with everything they need to know about Bandera innovative technology. Why not maximise your opportunities at the show by pre-booking a tour of the Barrier Flex® Seven line with one of us, saving time and energy.
Get more information prior to your visit to K2019